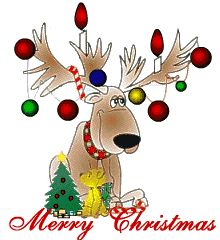 I am getting there. Punkin was home today and still sick and puny but he like a true trooper went out and helped me finish up with the outside decorations and when finished, I took a good look at our old black with grey and brown rust older than dirt mailbox sitting forlornly on the side of the road and thought "gee, that mailbox which serves us so well rain or snow, wind or well you get it.......in whatever kind of weather we're having as the holder of all news. Bills to pay, letters to read, junk mail to create art cards with and sometimes checks, or rebates or something great like an unexpected pressie from a bloggie friend and it is the one thing I have overlooked". Well I can't have that so for some inspiration I came in and began surfing the web to see what other well dressed mailboxes were wearing this Christmas season and found but a mere few. So me thinks I will go through all my junk and surely upon surely I will come upon just the right thing for our special box. Oh and by the way, does anyone out there still send Christmas Cards? I think every year that I won't do it again, you know with the cost of postage and e=cards so available and yada yada, and then before you know it I have them out and am scratching my head to decide who to send them to. Oh it just is still a part of the anticipation of Christmas for me to do this one more outdated thing.
Nope...it's pretty but I'm just not into stenciling and find it extremely hard to do.
Waaaaaaaaay to modern and sleek for our old road
Wowzw.....Glitzy and Glam we ain't
Hmmmmmmmmmmmmmmmmm maybe, but a little dull. Right?
I think this is ME. Now our is black and is on a wood post but I'm kinda lovin the greenery around this and the easy carefree look of this one. What say you?
Tell ya what I'm gonna work my buns off (wouldn't that be great?) and then on Thursday I will post a pic of our mailbox and the front yard for you. OK?
Happy decorating, mizmollye